Patios used to be nothing more than basic concrete slabs right outside the dining room's sliding glass door. Today, modern patios are functional outdoor areas that suit the homeowner's entertainment demands and style.
If you've already looked at a few design options and didn't like the rural, bohemian, or rustic concepts, a modern patio design may be right for you. A patio with a contemporary look and feel is the ideal approach to set a chic tone that will wow your guests.
When it comes to how you modernize a patio, there is a range of elements that you can use to your advantage, such as a rich colour scheme or geometric patterns. Here are some suggestions on how to add a contemporary touch to your patio.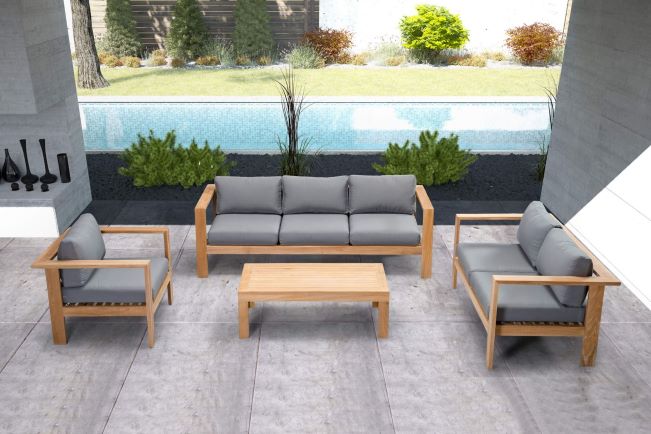 Choose Contemporary Patio Furniture
Choosing modern-style furniture with matching décor elements is the quickest and most efficient approach to upgrading your patio. You may pick contemporary outdoor furniture for your outside space that has sharp edges and smooth frames and you definitely need square and rectangular pieces for the modern look.
If you enjoy dining al fresco, then a patio dining set should be the centre of attention in your outdoor room. When shopping for contemporary patio furniture, you'll find many dining sets to choose from. In order to choose the right one, the number of seats should be determined first. If you regularly eat alone or with a companion and have a tiny area, pick a small bistro table.
For many families, a 5- or 7-piece dining set works well. If you have the room and enjoy hosting parties, bigger dining sets are also available. A bench may be added to your dining table and chairs for a more adaptable setup, or you can pick an outside extension table to accommodate company.
A Few Considerations with Selecting Furniture
The largest restriction on the contemporary patio furniture set you may select will be the size of your outdoor area. The quantity of space you have and how you need it to function must be married. As a general guideline, you should not fill more than two-thirds of your patio area with furniture —doing so can make it appear cluttered.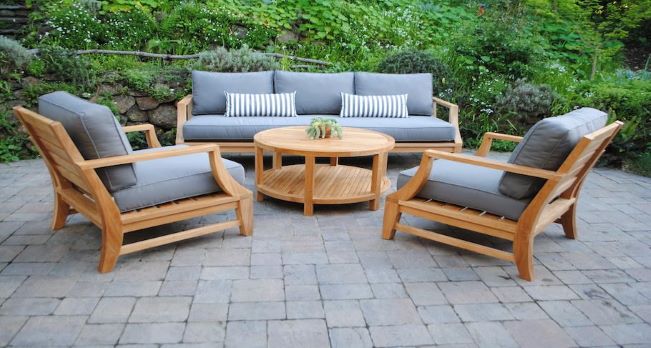 Outdoor furniture must not only look attractive but also be extremely robust to endure weather changes because it is continuously exposed to the elements. The ideal example of this is teak – a type of wood that can endure heavy loads and a lot of abuse. Additionally, the weight of the material prevents the pieces from quickly toppling or dispersing.
Teak is also simple to clean and maintain regardless of whether it's been lacquered, oiled, shellacked, or stained. Instead of the sun-bleached silver tone that develops naturally over time, many choose to add a finish to their teak outdoor dining furniture because they desire a certain colour. However, if you prefer the sun-bleached silver hue appearance, just let the sun work its magic and don't bother about the finish applications.
Add Greenery
With their intriguing textures and rich colours, plants are an excellent way to add brightness to any environment. Plant them in beautiful, modern planters and they become a terrific external addition that brings life to your outside area. You can also add planters to the edge of your patio or paved garden area to add a natural feature element that helps define the space.
For a modern design, look for planters made from HDPE materials. Featuring smooth surfaces and clean lines, HDPE planters work well with contemporary, sophisticated decors and the styling possibilities are endless. Such planters also offer the biggest durability considering they come with double-layered plastic that provides protection from the sun, wind and insects that can attack the roots of the plant. Thanks to the durability of the material, these planters can withstand most weather elements.
You may also want to invest in modern self watering planters. A common mistake many do is planting a bunch of flowers to just, later on, realize that they actually don't have enough time to take care of those flowers. If you have a busy schedule, planting your flowers in self-watering planters can help make the whole job easier.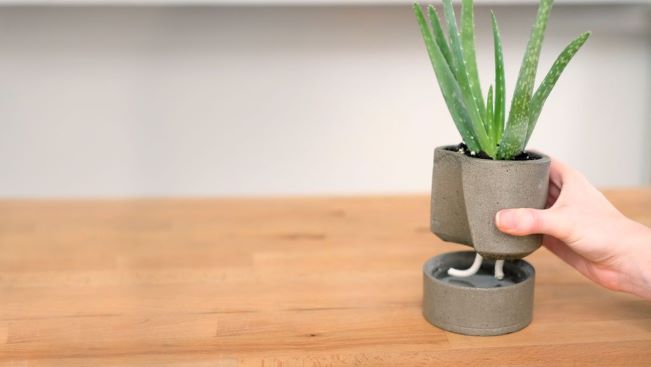 They do the work for you based on a reservoir system that consists of a water storage tank and an overflow hole, so excess water can drain away. The soil soaks up the water from the water storage tank (as long as you keep it filled) while your plants get a consistent level of moisture delivered directly to their roots. With these planters, you only need to add water whenever the water reservoir is low on water. How often you will need to do this will depend on how large the water reservoir is and how much water your plants need, but it could be a week or longer.
Implement Contemporary Decor
Crisp, clean lines and a subdued colour scheme are highlighted in the modern patio design. Charcoal greys and matte metallics may give your home a contemporary feel. For instance, garden accessories, such as abstract wall sculptures, a water feature, or a fire pit, may all give your area a contemporary feel. Combine similar-toned elements, then use a variety of textures to enhance visual interest.
A splash of colour can vitalize a modern patio, and you can achieve that with an outdoor rug in burnt orange or navy colour. Modern rugs come in chevron, swirl, and dot designs and have the ability to maintain their beauty in all weather conditions thanks to weather-resistant textiles like polyester.
Use Lighting
Use modern patio lighting to add a personalized touch to your outdoor décor. For example, you can use a stylish chandelier or a lovely string of lanterns to express yourself. An elegant alternative for a bright evening is metal patio lighting with straight, angular forms. Modernized lantern chandeliers with plain metal frames perfectly capture the feeling of the day. Or, to keep a slim appearance, use flat, wall-hugging LED sconces. As a finishing touch, the border of your contemporary patio may be illuminated with a chic pair of ground posts.