Every homeowner wants a home that's complete with features and accessories that will make everyday life easier and it's one of the main reasons why many people decide at some point to add a laundry room to their house. It may not be the most important room in your home, but doing the laundry is a chore and creating the perfect laundry room can only make washing and drying more enjoyable and fun. Here are three simple ways that can help you maximise your laundry room space and create a functional work area without sacrificing the look and feel of your home.
Carefully Choose Your Laundry Room Cabinets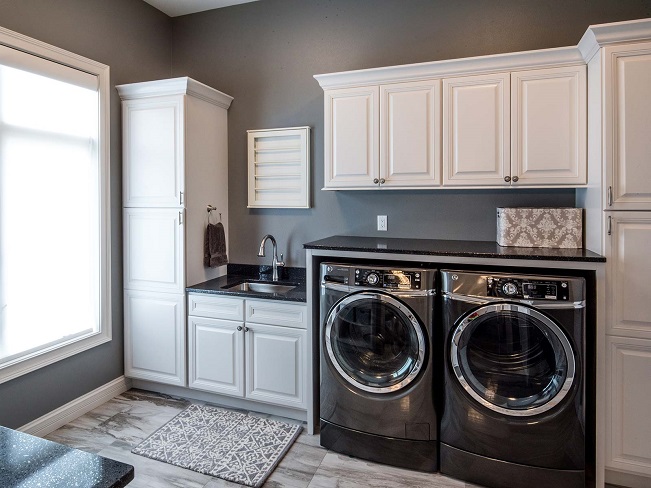 Laundry rooms are often tight on storage as much space is taken up by the washing machine and the dryer and very often, a utility sink. Laundry cabinets can help you maintain order, organise your laundry room and turn it into an efficient and comfortable area. Finding the right storage solution can reduce the time you spend on the laundry chore and make it more enjoyable at the same time.
Streamlined organisation and a polished look can make daily tasks feel like less of a chore. You can choose laundry cabinets and strike the right balance between storage and workspace. When buying, consider the activities that take place in your laundry room, from treating stains to sorting or folding clothes as well as the items you need, including detergents, cleaning products, ironing supplies and more.
If you want to create a bright and clean-feeling room, then a white cabinet is your best choice. Depending on your style, you can opt for a more traditional curved edge or a modern straight edge. If you are going for a more elegant appearance, then you may consider a dark coloured laundry cabinet.
There are many different types of cabinets for the laundry room available on the market. Some can be hung up on the walls, while some can simply rest on the floor. They are available in different sizes, designs, colours, materials and finishes, so you can choose cabinets that match your needs and fit in with the overall décor of the room.
Carefully chosen laundry room cabinets can provide freshness to the room and make it easier for you to organise your laundry day. Having the right storage cabinets can keep your laundry room organised and while upper cabinets can be installed throughout the room and save you some floor space, base cabinets feature a countertop, which is great for folding laundry. If you have a laundry sink, you can choose a laundry sink cabinet that provides you with additional storage space that would have otherwise been wasted.
Invest in Quality Laundry Baskets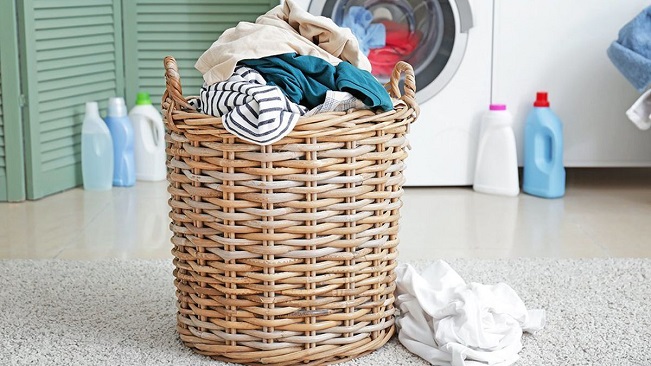 Laundry baskets are used to hold dirty clothes, but they can serve an aesthetic purpose, too. Choosing a bathroom laundry basket is a simple and affordable way to add colour and texture to your laundry room. It's an integral part of every laundry room equipment and can be found in many different colours, shapes and materials, so you can choose one that fits your space perfectly.
Consider how much laundry you produce on a regular basis, so you can choose the right size and the structure of the laundry basket you need. You can find a bathroom laundry basket that matches your style and adds warmth to your laundry room. Make sure to leave enough space in front of the machines to empty or fill them easily and create a nearby niche to keep hampers and baskets out of the way when not using them, but still within easy grabbing distance.
Wooden laundry baskets can give your laundry area an attractive but rustic touch, while bamboo and rattan baskets add a natural charm. Wicker and woven laundry baskets are also popular these days, a chic solution for modern laundry rooms and if you are interested in the latest trends, then seagrass baskets are the perfect choice for you. They are made of natural materials and can give a unique look to the entire space.
You can designate specific laundry baskets for dark, light, machine-wash and hand-wash pieces of clothing. Depending on the material your laundry basket is made of, you can wash it or use a disinfectant if it's made of a non-washable material. It's important to make sure your basket is vented. Vents are the little holes that are all throughout the basket, allowing the laundry piling inside to breathe. When your laundry piles are organised, laundry mishaps are less likely to happen and you can make the most of your laundry-day routine.
Install Water Resistant Flooring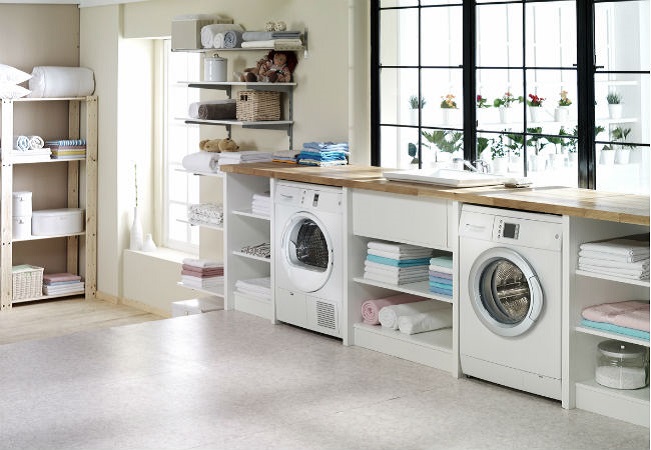 When it comes to your laundry and bathroom floor, you need to make sure you choose the right flooring solution. The floor in these areas is frequently exposed to humidity and moisture, so you want to use water-resistant flooring that's able to fend off moisture. Moisture is a major concern with laundry rooms, whether it's coming from an overflowing washing machine, a cracked or severed water supply pipe or a clogged drainpipe.
Water is always present in laundry areas, so that's why it's always a good idea to avoid using a carpet or expensive hardwood flooring and consider a bathroom floor vinyl option instead. It's the best choice for doing laundry because it's water-resistant and can help you create a space that is both comfortable and practical.
Vinyl flooring is available in a variety of patterns and looks, so you can easily find something that will look great in your laundry room. You can choose a bathroom floor vinyl option that matches the look of your laundry space and install it over your existing flooring. Just make sure that the subfloor is clean and flat, so the vinyl will be installed correctly.
It's an inexpensive option that can be installed easily, especially if you have a small laundry room. However, if you are not so confident about installing it yourself, you can always leave it to a professional, which is a better option in most cases.
You can use loose lay vinyl flooring for almost any area of your home, and it will certainly fit well in your laundry room, too. Vinyl flooring is an attractive flooring solution that is warm and soft enough to stand for a long time when doing your laundry. Also, it's scratch and stain-resistant and smooth and easy to clean. It's a durable flooring option that can last for years if properly taken care of.