If you want to create a calming bedroom environment, you should consider implementing some classic home furniture pieces that will never go out of style. And what better way to achieve that, than deciding to add a high-quality chest of drawers in your bedroom. Besides being aesthetically pleasing, this piece of furniture can provide enough storage for your clothes, especially underwear and socks that can not be hung in a closet. 
If you are wondering which type of chest of drawers you should buy, we recommend you stick with us as we're going to elaborate on all crucial factors that play a vital role in selecting the ideal chest of drawers for you and give you recommendations of some of the best brands available on the market today.
How Do I Choose a Chest of Drawers?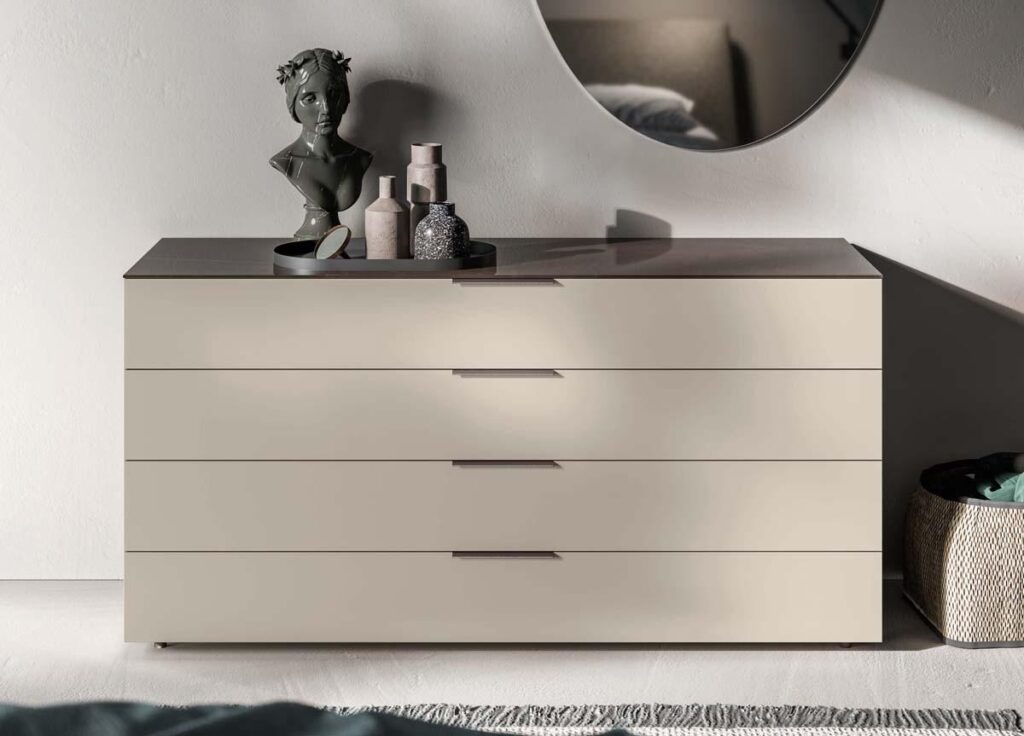 Finding the right chester drawers that will suit your personal style and interior decor, requires considering some important aspects. From selecting the right shape and design to choosing the number of drawers, size, and of course your budget. 
Features to Consider when Choosing a Chest of Drawer
Size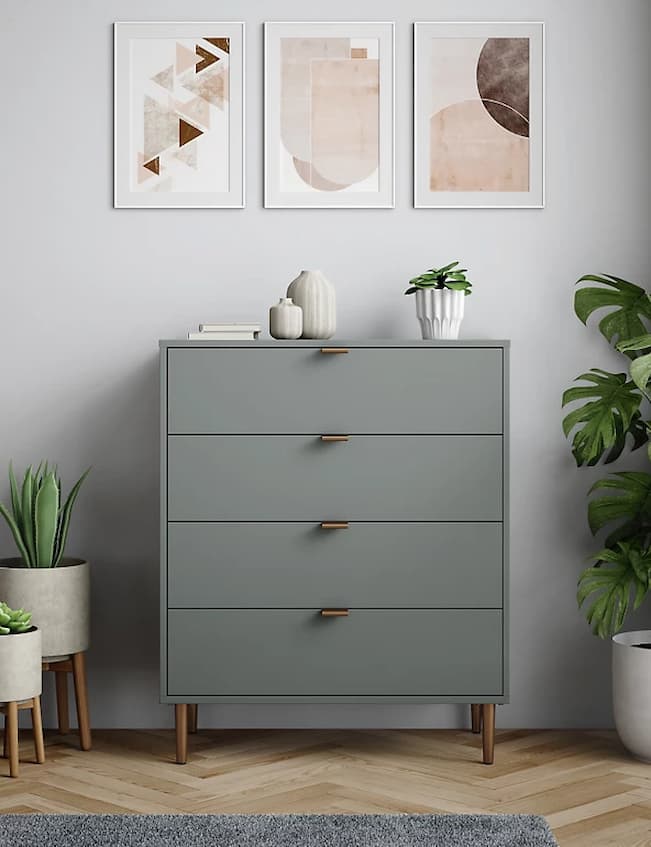 When it comes to bedroom storage solutions, the size of your dresser should be chosen according to your room's needs. If you have a big bedroom, you may consider a larger chest of drawers that features more drawers and will fit nicely with the rest of your room decor.
Number of Drawers
The number of drawers can usually vary, depending on the size and design you choose. The most likely number of drawers is five, six, or seven however some smaller designs have fewer.
Material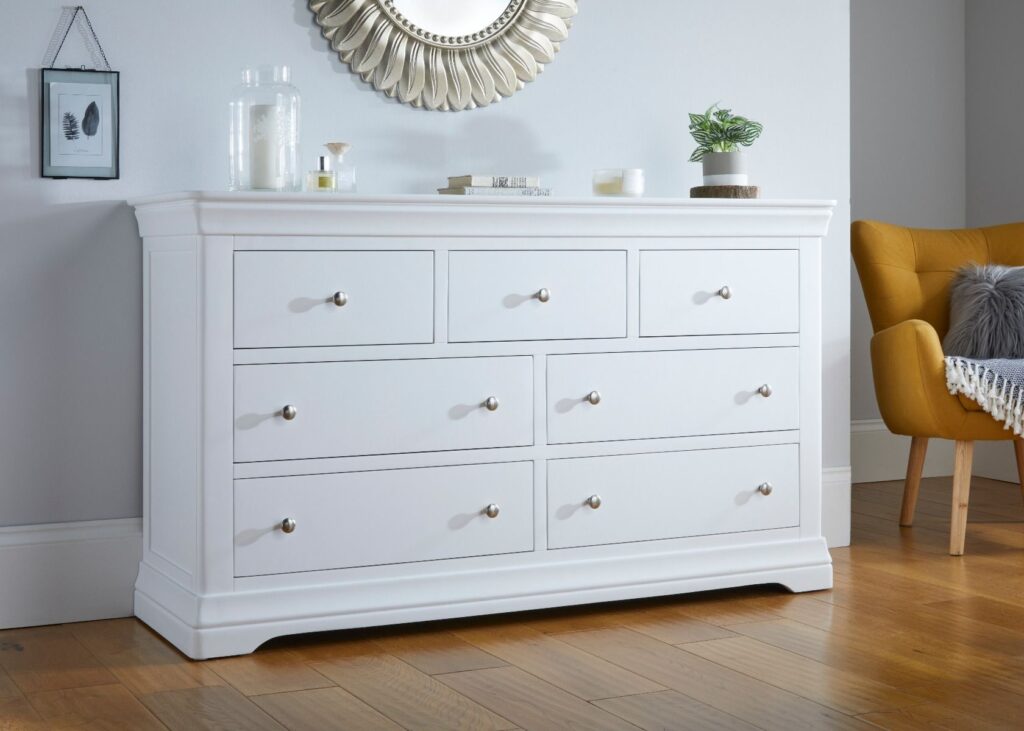 Chests of drawers are available in a number of configurations and styles. An essential factor that gives them uniqueness above all is the choice of material. Most chests of drawers are commonly made from different types of wood, however, some other materials are also common such as recycled resin.
Style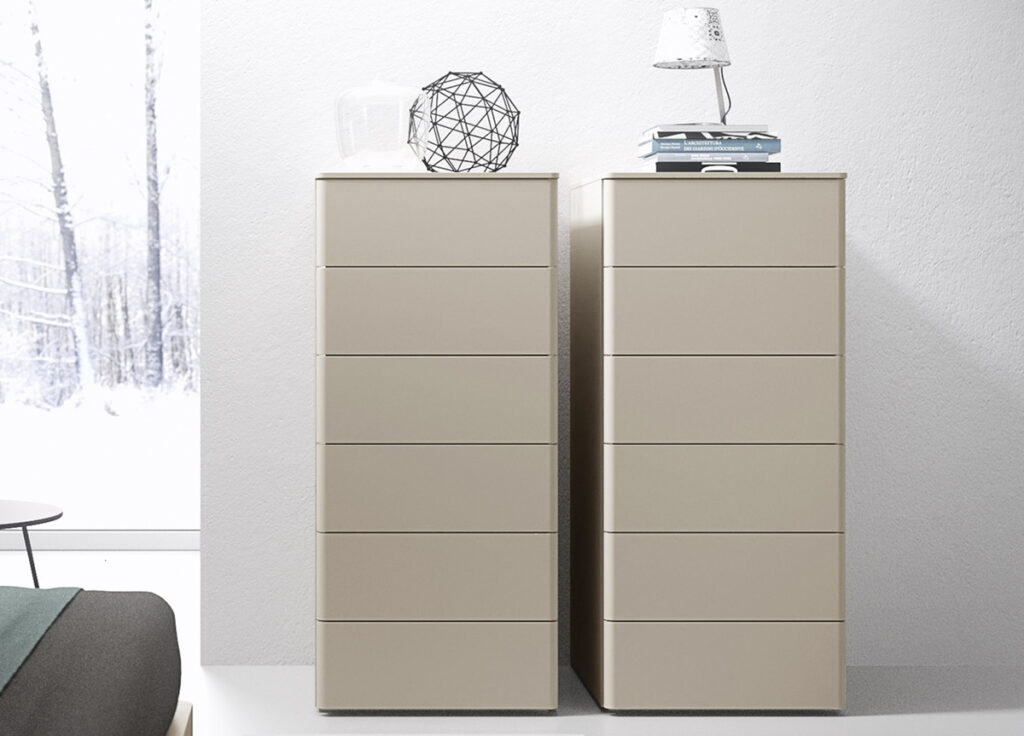 You can find a variety of many different chests of drawers designs, ranging from teak timber, vintage-inspired look, bohemian for people who love freedom, and contemporary for those that want to stay trendy with the current fashion in interior design. 
Although they can be plain in appearance, many of them are also handmade or feature diverse ornamental details and embellishment finishes that speak of a particular style, time, or design.
Budget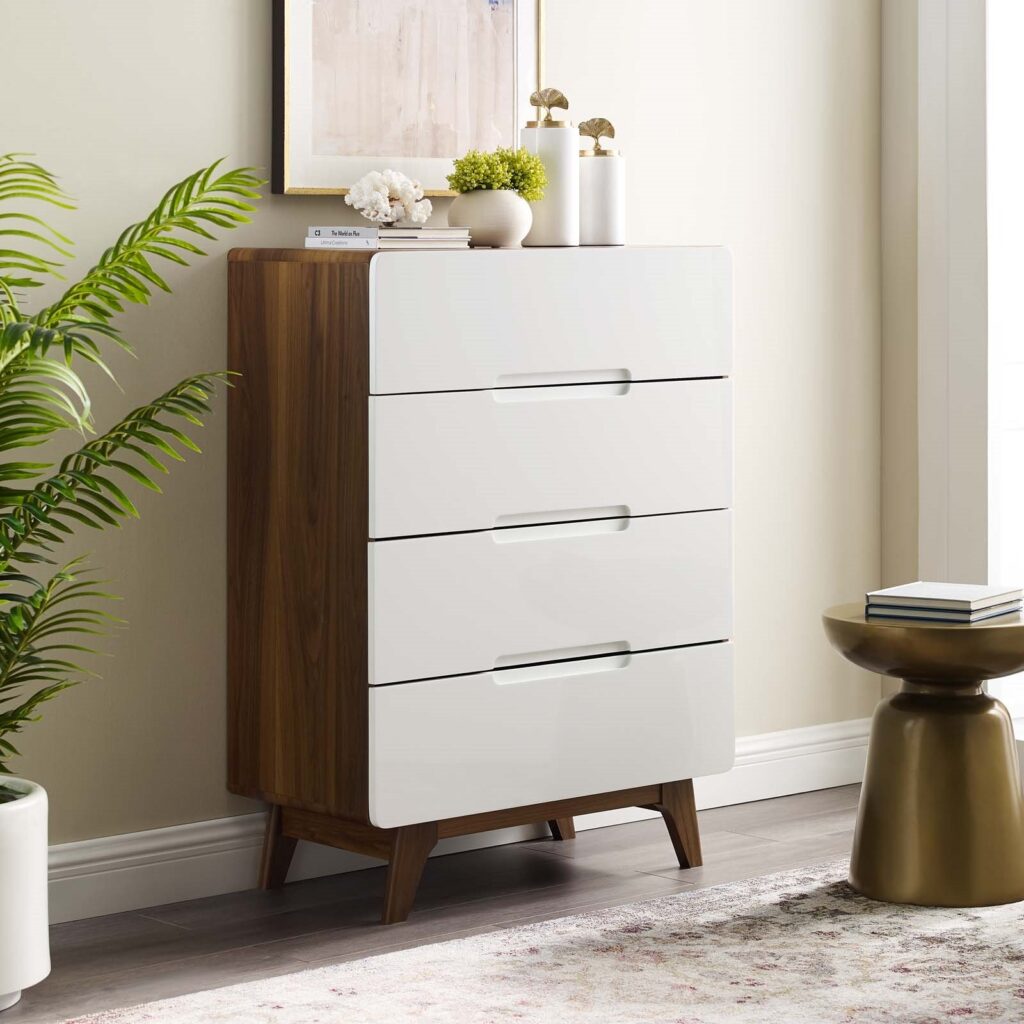 Considering your budget and how much you are willing to spend is another important feature. Choosing wood or other more expensive materials can also contribute the price to going up, as this material is much more expensive and durable than some other materials. Therefore, usually, prices range from $100 to much higher depending on the brand and design, still, there is a wide variety suitable for every budget and style.
The Best Types of Chest of Drawers for Your Bedroom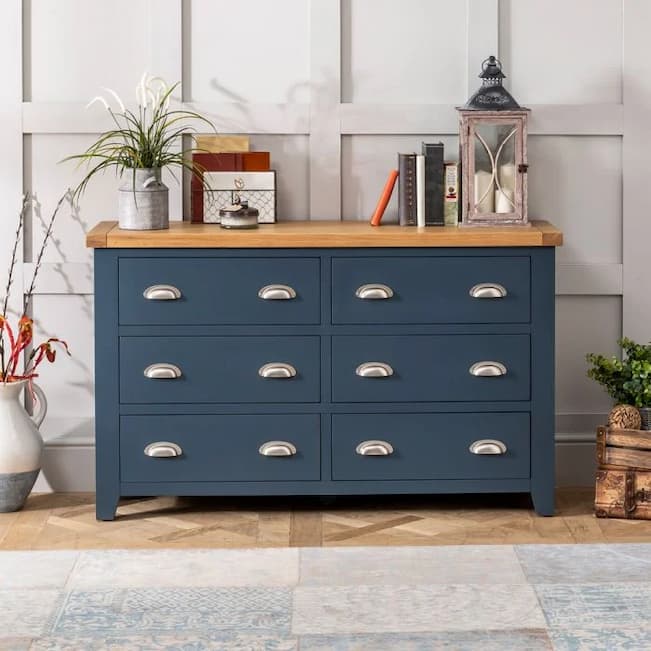 Hopefully, by now, you got some idea of what kind of chest of drawers you want. Still, we want to make sure we've given you all the needed details and information before buying one. Now, take a look at some of the best brands of chester drawers for your bedroom.
Ashley Coastal White Wooden Chest of 6 Drawers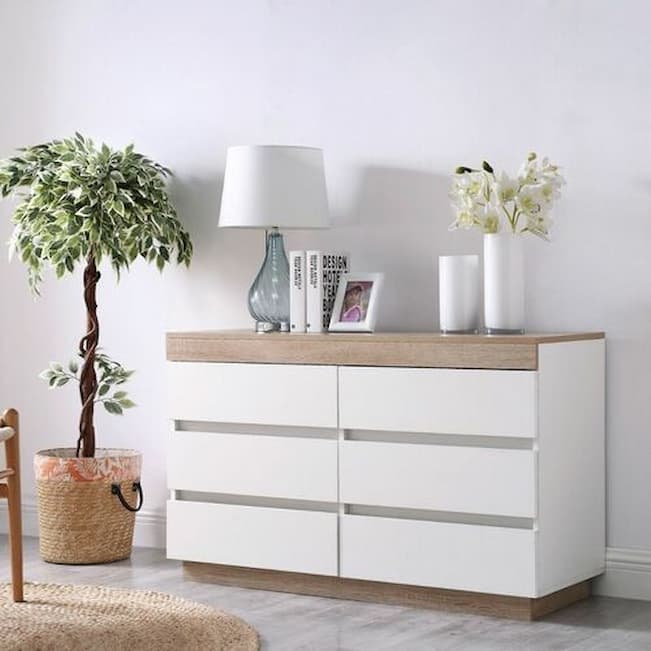 The Ashley Coastal White Wooden chest of drawers feature classic wood and white theme, which is perfect for emulating a sense of bright breezy charm and coastal appeal within your space. This piece of furniture has 6 large chester drawers made of a wooden chest, that will surely provide enough storage space for all your requirements. Its simple elegance will make a great statement piece in your bedroom and its utmost versatility and design will easily pair well with any type of interior decor design as well.
Ayana Rattan & Recycled Teak Drawers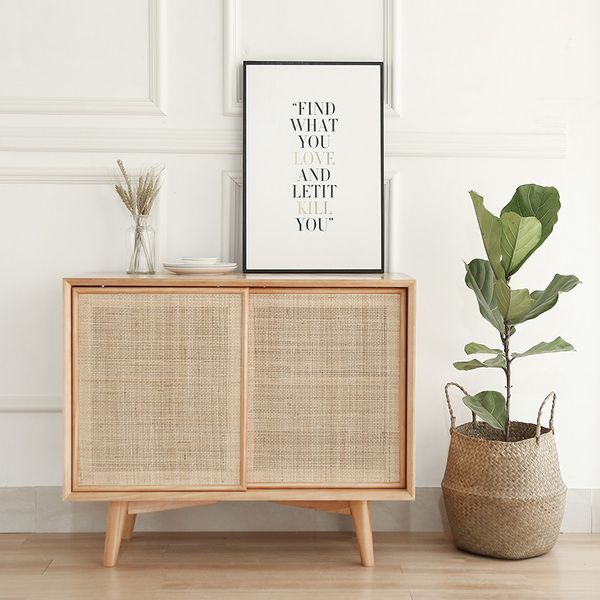 Ayana Rattan & Recycled Teak Drawers is a unique, handmade piece of furniture that embraces both the natural grain and texture of the wood. Being made from recycled teak, this piece features small patches, textures, and slight imperfections which are all part of the handcrafting process, that only add to its unique rustic appeal.
Modern Bohemian Chest of Drawers
You can make your bedroom more lively and much cozier by adding a bohemian ambience to it with this three-drawer dresser from Opalhouse. This compact-sized chest of drawers provides the perfect combination of both sleek and practical functions. Moreover, Its warm wood tones contrast beautifully with the stark white accents offering a refreshing take on the classic mid-century modern design.
Decor Therapy Mid Century Six Drawer Accent Chest Wood Light Walnut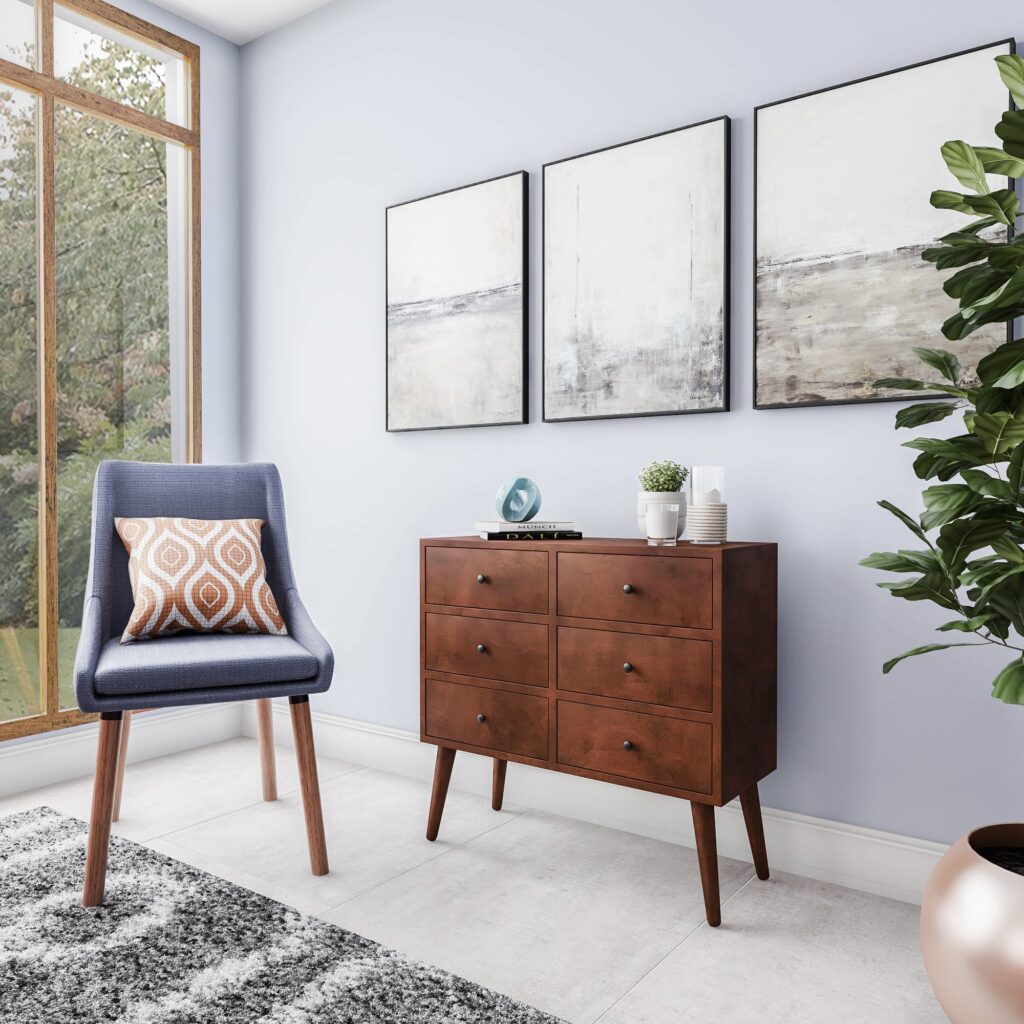 If you are looking for an affordable way to modernize your home with mid-century flair, look no further, as this six-drawer storage is the perfect piece you need. It is uniquely designed, featuring six drawer storage, veneer construction, and tapered legs. This mid-century chest of drawers encompasses mid-century modern design by exuding clean lines, a stylish finish, and simple round hardware. Besides, it's extremely versatile as it can be utilized both as a chest, nightstand or as an accent table.