Jon and Andrew Erwin's film "October Baby" is an exceptional story with powerful messages about the damaging consequences of abortion, the need to forgive and be forgiven and the inestimable value of life. The Erwin brothers elaborate these themes through the main character, in this case a girl named Hannah that struggles with her inner and physical problems. The movie is about a college girl that has many health problems and has had numerous surgeries through the years. She strives to keep her faith, but fails to understand why these things happen to her. Later in the movie, we will understand that Hannah actually is a result of a failed abortion that has left her with many health problems. Her birth mother tried to abort her without success and later gave her up for abortion. Luckily, Hannah was adopted by a good family that kept this secret from her.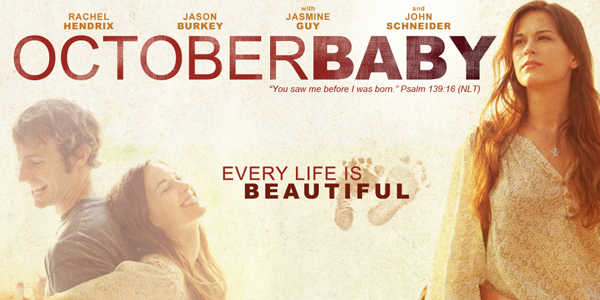 However, Hannah's adoptive parents could no longer stand her unwillingness to live and decided to tell her the truth. Even though the truth hurts, "October Baby" teaches us that it is always better to face reality than run from it. Once she found the truth, Hannah went on a trip road with her friends to find her real mom and get answers. With the help of her true friend Jason, she finds her mom and begs her to explain why she refused her in the first place. Even though her mom refuses to provide any answers at first, with the help of a kind priest Hannah touches the heart of this woman. "October Baby" was released in a time when women's reproduction and sexual rights were a part of an international debates. "October Baby" features both negative and positive elements drawn throughout the movie.
Positive Elements – Even though "October Baby" deals with the horror of abortion, still there are positive elements like forgiveness, appreciation of life and the true meaning of friendship. Once you get free from the secrets you hold, your life will change and you will find the peace you long for. This is what Hannah and her parents do in this movie, they decide to reveal the past and release the pain. That is way they find spiritual peace and understand the true meaning of forgiveness at the end. Hannah's words "The truth will set you free" have enormous meaning. "October Baby" sends spiritual message to all of us, teaching us that if God found the strength to forgive us, who are we not to do the same to those that have hurt us.
Negative Elements – "October Baby" is a story that captivates. We see things like these happening every day. Abortion is present everywhere in the world. The movie highlights the consequences of abortion, but at the same time teaches women that they have the power to not to and to choose life. Throughout the movie you will spot other negative elements like drugs and alcohol, violent content and other behavioral deformation found in real life these days.