Hair loss has for years affected both men and women. And although it is not an illness of modern time, doctors still do not have a miracle treatment that will help stop hair loss. There are numerous hair loss treatments, but none provide permanent results except for the surgical procedure, hair transplantation. However, given the fact that this hair loss procedures is expensive and not all patients are candidates for this treatment, many men and women are battling their baldness problems. All mostly turn to numerous natural remedies and some even consider tattooed hair, also known as Scalp tattoo micropigmentation treatment.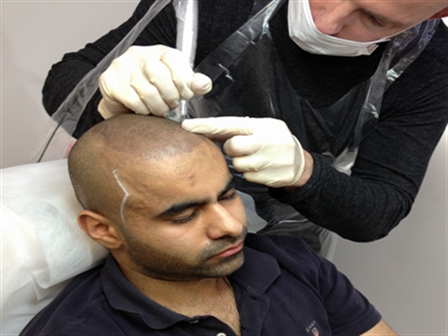 Scalp tattoo micropigmentation seems to be the latest hair trend these days. Instead of using wigs, hair pieces, etc. to hide bald spots, try the innovative scalp tattoo micropigmentation treatment. This treatment is basically tattooing hair on the scalp to achieve the shaved head look, the trend many celebrity support. The head gets tattooed with tiny dots in the colour that best matches the colour of your natural hair. Thanks to this innovative treatment, your will no longer have bald spots. No need for surgery procedure or medications. Also, tattooed hair is a perfect solution for every men.
Scalp tattoo micropigmentation has been a life changing treatment for many men and women who suffer from hair loss. Specialists use unique micro cosmetic tattoo technique to mimic your natural hair follicles in order to achieve a completely natural look. You will notice great results after the first treatment. Your tattooed hair will give the appearance of new growing healthy hair, without submitting to any surgical treatments. Tattooed hair is one of the best hair loss treatments available today, using only natural colour pigments.
The whole scalp tattoo micropigmentation process takes up to 3 sessions, all lasting 3 to 4 hours in order to gently inject the matching pigments and simulate full hair. Tattoo specialists first examine your natural hair colour and match the pigments with that colour using a variation of needles to replicate your natural hair. Even though your hair does not grow, you will be able to camouflage the bold areas.