In today's world where we're constantly surrounded by technology, it's beneficial to spend some time in nature. Our yards are a sacred part of our homes, giving us a peaceful and secluded place to relax at the end of a tiresome day or a fun spot to enjoy family gatherings. A well-designed outdoor space can be quite a challenge if you don't know where to start. On the topic of privacy – a fence often isn't enough to fend off ogling passers-by. This is why it's good to have evergreen plants that cover a wide area to ensure your privacy all year long. Creating a soothing ambient is another part of a successful outdoor design. It's important to choose the right furniture and accessories with complementing styles and colours.

Self Watering Planters
Filling up your outdoors with various plants will create a cosy atmosphere by freshening up the air and creating a soothing view for your eyes. Their maintenance can be challenging given that many of us have busy lives, but there's an easy solution to this problem. Luckily, self watering plant boxes are practical outdoor essentials that keep growing in popularity. And that's for some good reasons.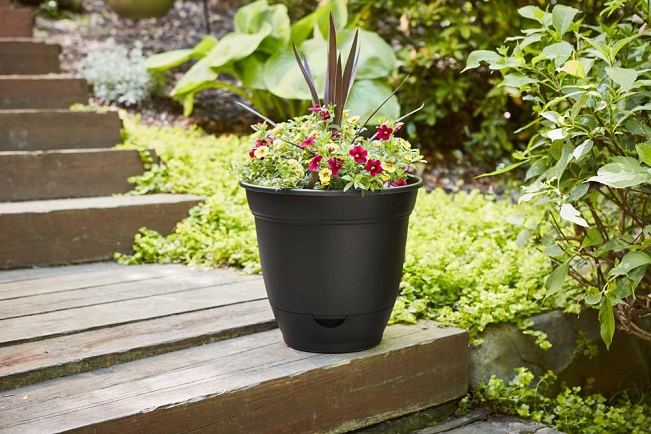 Wicking System
What makes these planters special is the "wicking" or "capillary action" system, named after the way in which a wick of a candle draws up wax, which is how even the tallest trees overcome gravity and draw water from the root to the tallest point of the plant. This system works with cohesion (attractive forces between like molecules) and adhesion (attractive forces between unlike molecules of a solid and a liquid material).
Low Maintenance
Unlike other planters that need to be frequently watered, these plant boxes only need a filled water reservoir and they can be left on their own for quite some time, which is perfect if you have a busy lifestyle. You can avoid damaging the plant by over or underwatering it since the soil automatically pulls water when it dries up. This allows the plants to grow long healthy roots, since they reach downward for water, whereas in other planters they need to reach sideways and near the surface.
What Are the Best Plants for Self Watering Planters?
Today's market is filled with GMO fruits and vegetables. Instead of risking health issues, you can easily grow them in your own garden. Self watering plant boxes are especially suitable for cherry tomatoes, cucumbers, turnips and other vegetables which require a lot of water. Viable decorative plants for these planters are African violets, peace lilies, pothos or devil's ivy, fibre optic plants, umbrella palm, ferns, pitcher plants and others.
Another bonus is that these planters can fit into any garden with their contemporary design. They come in different sizes and can be easily attached to walls.
Swinging Chairs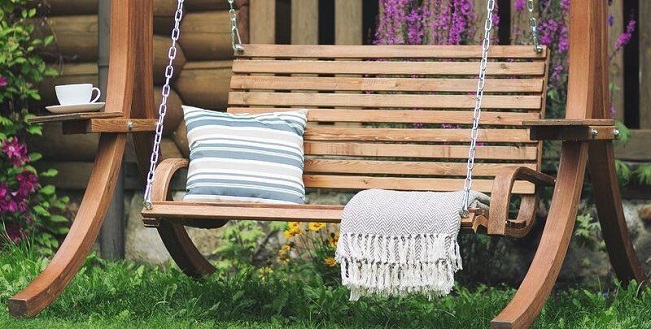 The colour and style of your patio furniture depend largely on your personal preference. The most common furniture choice is rattan dining sets, which aren't a bad place to start but to really transform your patio, you need to add some variety. Egg chairs have come a long way since their invention in 1958 by well-known Danish architect Arne Jacobsen. Since then, they've branched out into multiple designs and accommodated many design styles.
To repurpose the timeless design of the egg chair for outdoor purposes – the egg swinging chairs were born. This piece of furniture is a hammock, rocking chair and a hanging porch chair all wrapped in one. Often made of rattan, they complement the greenery of your outdoors quite well. The framework is usually made of steel or aluminium, which is quite durable and can safely withstand a lot of weight. Their form and the padded, often water-resistant cushions are designed to cradle your body and give you maximum comfort, being ideal for reading a book or relaxation after a long and busy day. Its almost cocoon-like structure gives you additional privacy.
The best part is, egg swinging chairs can be freely accessorized. You can do this with patterned decorative cushions, throw blankets for chilly nights or fairy lights that go along the edges of the seating structure. This will make your chair look like it came out of a fairy tale. When choosing accessories, make sure they're made of comfortable materials.
When adding new furniture to your patio, remember to avoid overcrowding the space. A cluttered patio can be difficult to navigate and relax in, but an underequipped one won't have enough space for your family gatherings. When adding new furniture, you can try replacing the existing pieces, so that you can repurpose them for another part of your home.
What Kind of Lighting Is Best for Outdoors?
While indoor lighting is widely talked about, it greatly differs from the outdoor lighting needed to set the right ambient. Wall-mounted lights are practical but contribute little to the overall aesthetic. A fireplace can make a beautiful focal point for your outdoors, contributing to cosiness, entertainment, and can even be used for cooking. A couple of rows of string lights combined with lanterns or candles give sufficient lighting while turning your patio into a magical evening getaway. For the string lights, use a potted plant based or a tree as a base. Alternatively, they can be wrapped around trees or placed over plants.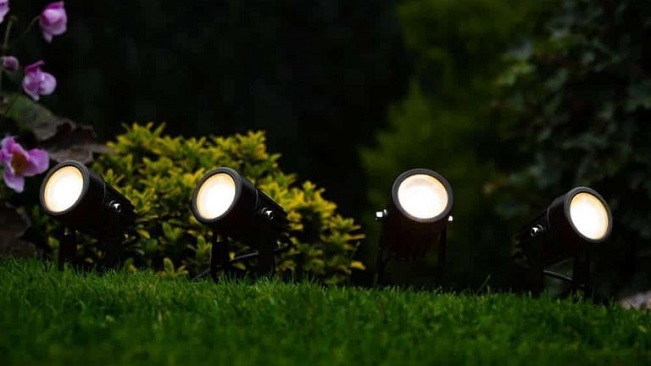 Bottom Line
Your outdoor design can give you a lot of benefits. Self watering planters come in chic minimalist designs while also saving your time and energy. They fit into any design and are compatible with any type of plant. Stylish swinging rattan chairs give you comfort and create a magical atmosphere when combined with the right lighting and accessories.
Some other interesting design elements for your outdoors are rock pathways and sculptures. What's great about rock pathways is that you can even make them yourself. There are tons of designs to choose from, such as simple, evenly spaced matching squares, a combination of stones and gravel or even ones including a mosaic. You can spice it up by adding lanterns or waterproof rope lights along the sides. Garden sculptures can be made of various materials, but you don't have to go overboard with them. Adding small stone sculptures along the pathways is sufficient to create an appealing aesthetic.