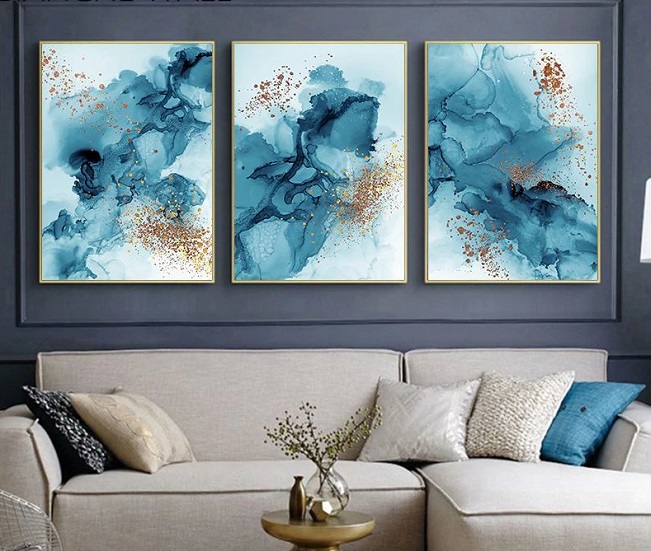 Creating a home with a cohesive look that flows from room to room is the dream of every homeowner. To create a whole house colour palette, the best thing to do is make a decision about your colour choice upfront and stick to it. That way every next step you take be much easier and you'll feel more confident along the way.
Sticking to a consistent scheme is cohesive and sophisticated and if you want to introduce some healing vibes, something that will make you feel calm and relaxed in your home space, then blue is your colour. Blue is a gorgeous and powerful colour and, in some cultures, it's believed to bring luck. In modern interiors, it is a beautiful colour to decorate with, from pale shades to navy dreams. So, let's see how you can create a blue colour scheme in your surroundings with a few simple ideas.
New Trend or an Old Charm? Blue Posters are a Thing Now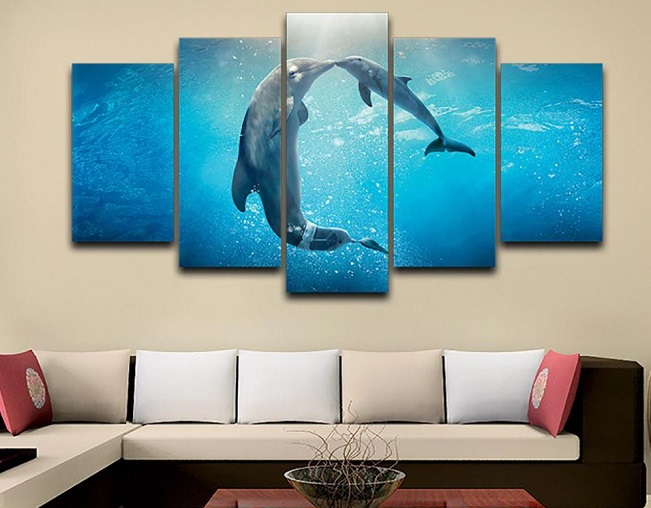 Wall art is a common interior decorating tool, which can involve anything from canvases to framed wall prints, posters, paintings and other artistic embellishments that hang on a wall. Find something that you love, something that speaks to you, and the hard part of the design is done.
Maybe you've never thought about it, but we've all used wall art and décor at some point in our lives. When we were young, we were adorning our walls with posters, a fascination that many of us got rid of after college, but today posters are an essential part of modern interiors. So, why not go with posters again? You may be surprised to see what a blue poster can do to a room.
Back in the day, we only cared about the pop star, the band or the sports team that was on the poster, but today designers use colour psychology to trigger emotions with their posters. We all have different reactions to certain colours just as we have different preferences.
Blue represents tranquillity, security, reliability, trust and peace. You can choose a blue poster to create a soothing effect as it often makes you think of coolness and airiness and can help you concentrate and focus. Even though blue is mostly preferred in the bedroom, it can work very well in any room of your home, from the living room to the kitchen, bathroom and your home office.
Light blue is always associated with the sky and water, it's clean, clear, open and expansive and can provide a deeper connection to life's mysteries. Lighter shades of blue are also known for having a vintage feel. Deeper blue, on the other hand, like navy, for instance, give more quiet, peaceful and thoughtful vibes.
Go Big with Blue Wallpapers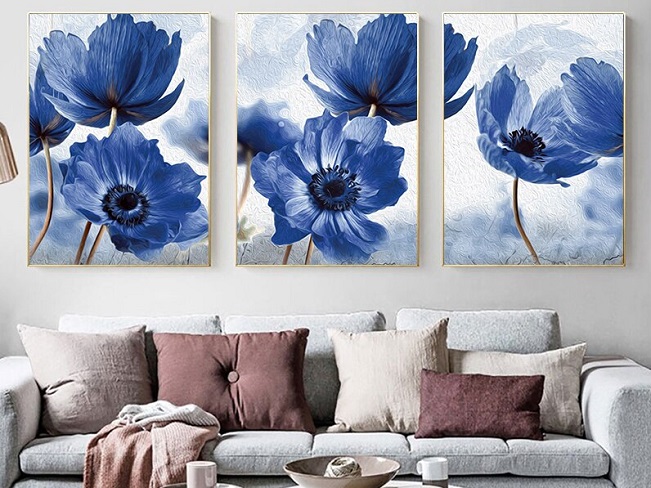 Design wallpapers are all about artistic and modern covers for walls and a great option to refresh your home and set the mood for the entire space. Wallpapers used to be the most famous wall treatments in the past, and over the years, printing and manufacturing processes have developed significantly, so they are back in trend now.
Blue is a great way to perk up a room. The choice of blue wallpapers is vast and you can let your creativity play and decorate your space the way you've always wanted. Thanks to their simple and easy installation, you can introduce the blue colour scheme to your home interior instantly. A blue wallpaper can transform your living space without the need for many other elements.
Lighter blue shades offer a calming effect and when paired with light-toned, neutral furniture, they can make the room feel calmer and even larger. You can choose blue wallpapers and create a unique interior aesthetic, whether it's in your bedroom, the kid's room, living room or your home office.
Durability is one of the main reasons many homeowners opt for wallpapers these days. Quality wallpaper can last up to 10-15 years, meaning you won't have to go back and refinish the walls over a long period. Also, they require low maintenance and are very easy to clean.
Add Blue Decorative Cushions for Style and Comfort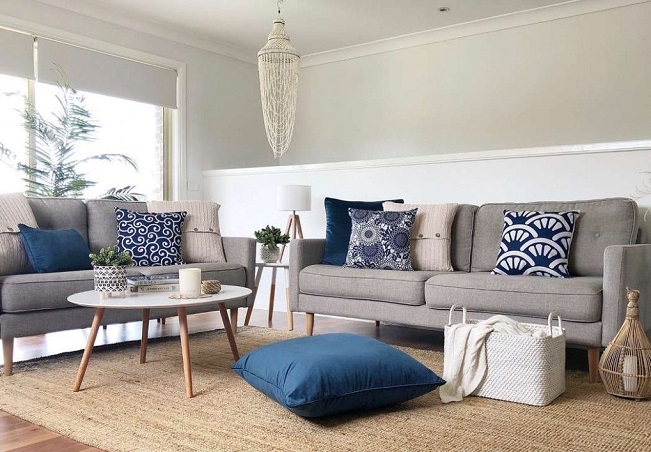 You can add blue cushions to your living room or bedroom for a vibrant feel that adds to the room's appeal. If your bedroom or living room needs a finishing touch, cushions are the right solution. Accessorising with cushions is the easiest way to jazz up your bed or sofa and works very well for introducing Hamptons – the coastal decorating style to your home. You can pair the blue cushions with a matching throw to add a beautiful, sophisticated touch to the overall look of your home interior.
Cushions and throws can be used all around the house and enhance the colours, patterns and textures of your décor scheme. They're some of the most preferred home accessories and can make the entire space look more colourful, cosier, effortlessly chic and comfortable. They fit perfectly in both contemporary and traditional interiors.
Most often, decorative cushions are used for ornamental purposes, but they can be functional, too. Not only your cushions can tie in the theme of a room, but they can also provide comfortable support for your back as well.
In the end, don't be afraid to mix and match your shades of blue with other colours as the colour blue works well with an extensive number of colours.