Healthcare facilities are dynamic institutions that require a lot of qualities from their flooring. For this reason, healthcare flooring options have been narrowed down to only a few types that can meet all the needed requirements. Vinyl is seeing increased interest both for residential and commercial use. Its many benefits make it a viable substitution for almost any type of flooring. However, what's surprising is that vinyl flooring can serve as a great asset to hospitals as well.
From entrances and cafeterias to operating rooms, flooring in hospitals has a variety of different characteristics. Areas like patient rooms and operating rooms need to stick to certain standards to ensure both the patients' and the doctors' safety. The floors need to be durable, slip-resistant, hygienic and easy to maintain. Vinyl floors possess all of these qualities, as well as several others, which makes them the ideal choice.
Vinyl flooring is constantly evolving. While it wasn't so popular in the past, today it's manufactured with multiple layers and a thick core. It can also successfully mimic different flooring materials, so it's a common cost-efficient alternative for hardwood floors.
Durability
Every area in a hospital is subject to constant wear from foot traffic, med carts, wheelchairs, etc. This is evident not only in corridors and entrance areas but also in patient and operation rooms. In these areas, there's often a need to move heavier objects such as medical beds, x-ray machines and other equipment. The ideal flooring for hospitals is slip-resistant to prevent accidents among patients and doctors.
Vinyl flooring comes with a protective coating that's resistant to scratches, scuffs and damage from chemicals. It offers slip-resistance, but also a seamless surface when properly installed. These floors have superior durability and can last up to twenty years if properly taken care of. Durability is vital for a hospital floor, as a constant reconstruction of the flooring can seriously impede the facility's processes.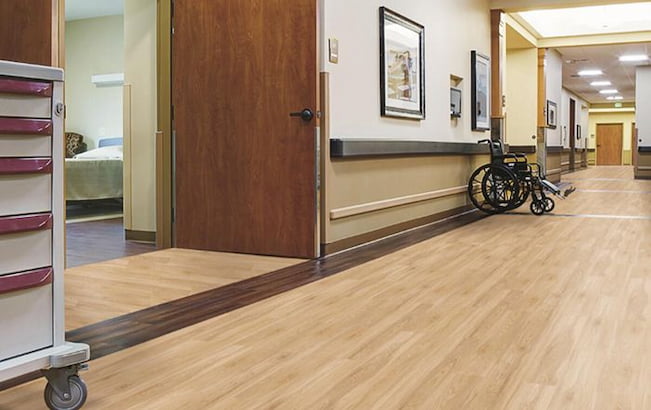 Another factor that determines how well the flooring performs in healthcare environments is its noise absorption. In areas where patients are trying to sleep or doctors are trying to concentrate, it's counterproductive to have the floors echo your every footstep. Vinyl flooring is ideal for hospitals because it's noise absorbent. It also has cushioning properties, which is beneficial for patients that have trouble walking. This is also good for the medical staff since the constant rushing around poses stress on their feet, ankles and knees.
Versatility
The appearance of the floors is another important factor in healthcare facilities. Hospital vinyl flooring has a wide range of design options and customizations. It can emulate any flooring material, such as wood, stone, marble etc. It also comes in a variety of different colours and texture options according to your own preferences and the design scheme of the facility.
Different areas of a hospital call for different flooring aesthetics. Starting with the entrance – this area creates the first impression for the visitor. The flooring in this area should contribute to a welcoming atmosphere. The corridors act as the main arteries of a hospital. These areas are often covered with themed and patterned flooring in lively colours. These designs have the ability to reduce stress and promote healing. On the other hand, patient rooms are usually designed to emulate home-like environments. They require warm and inviting flooring with natural textures and soothing neutral tones. These floors often emulate the look of stone, wood, tweed, etc.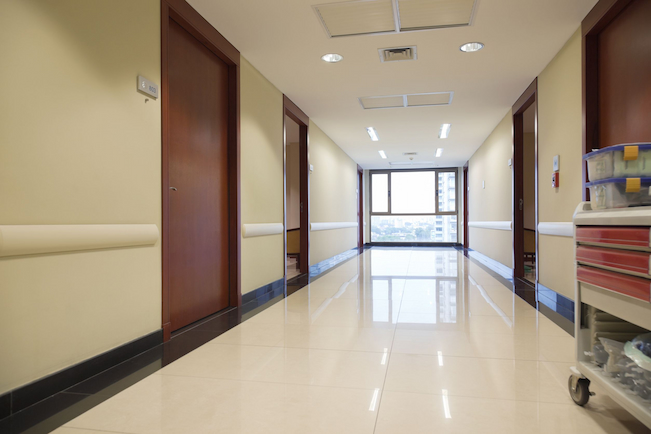 Is Vinyl Flooring Hygienic?
Vinyl flooring is one of the most hygienic flooring options, which is mainly why it's common in healthcare facilities. These areas often come in contact with bacteria and viruses, so they require frequent cleaning. Vinyl floors are easy to maintain, waterproof and stain-resistant. They contain an impervious top layer and a seamless surface. The cleaning process consists of simply wiping the surface with a microfiber mop. This isn't as efficient with other types of floors, especially with tile flooring. Dirt and bacteria can easily build up in the crevices, making them difficult to maintain.
Vinyl flooring is especially common in emergency and operating rooms since these spaces must meet strict infection control requirements. Hospitals often use smooth or low-textured flooring for maximum cleaning efficiency.
Sustainability
In addition to their numerous benefits, vinyl floors offer designers a sustainable flooring option for a health facility. Environmental awareness becomes more and more common, as we're witnessing the destructive effects that a lot of industries have on the environment. Vinyl flooring manufacturers are no exception to this trend. Today they use Poly Vinyl Chloride in their manufacturing processes, while they've left out heavy metal stabilizers and orthophtalate plasticizers a long time ago.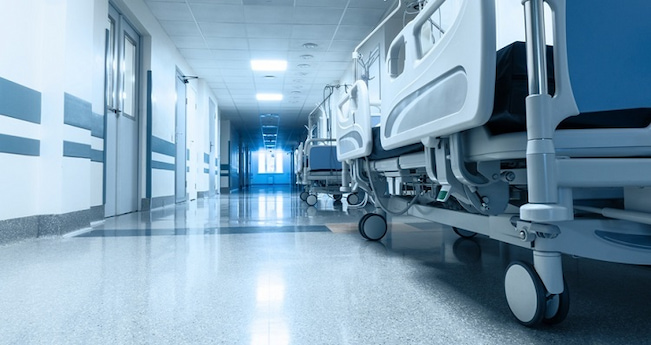 They've reduced emissions from volatile organic compounds (VOC) below stringent building standards. When we're talking about planetary health – the carbon footprint of vinyl flooring has significantly decreased over the past years. The amount of carbon dioxide that's emitted during the production processes of vinyl floors equals less than 1% of the building's embodied carbon.
Other than that, manufacturers have also committed to recycling post-production and post-consumer waste, minimizing its impact on the environment.
What Are Other Hospital Flooring Options?
Although vinyl flooring is a common type of flooring for hospitals, there are a few other types that are also used.
Rubber Flooring
This type of flooring is very popular in hospital settings. It has a seamless installation, it's quite durable and has versatile design possibilities. Rubber has a dense surface structure which means that it can successfully withstand constant foot traffic and heavy instruments.
Linoleum Flooring
Linoleum isn't as prominent as it was in the past, but it's still commonly used in healthcare facilities. It's made from natural materials, so it's a good option for buyers with environmental sensibilities. Linoleum flooring also has antimicrobial properties to protect against bacteria.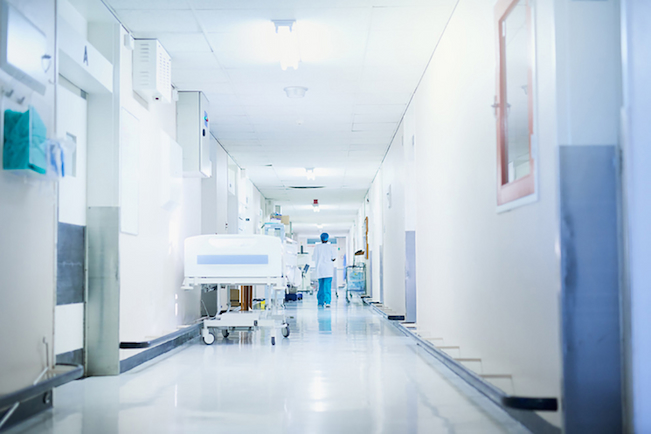 Resin Flooring
This is a combination of materials that form a hardened plastic-like surface when mixed together. Resin floors are durable, safe and flexible. They are low maintenance and have a wide range of design options and customizations.